(I guess this is where this report goes - feel free to move it if it belongs somewhere else....)
One of the guys/guides I know from SML (Dewayne Lamb) takes a few weeks off from guiding and heads out to the Chesapeake Bay to chase some big salty stripers every year around this time. Some of you guys may know Dewayne as he spends most of the fall and winter guiding on Boone and fishing some of the TN lakes. He had been out there for about a week and a half and had been texting pics of all these 50 lb stripers that he'd been catching - including a great day this past Tue when he and some guys got 15+ fish with 3 or 4 over 50 lbs. When he said I was welcome jump aboard on Thursday if I wanted to make the drive out, and I saw the weather conditions were going to be near ideal, it was an easy choice if I was going to fish SML or drive out to the Bay

Weather:
PERFECT :!: Flat seas for most of the day, a slight bit of roll by the end of the day; temps in the 60s, winds 0-5 mph with a few gusts up to 10 or so; we did have fog roll in and hang out for several hours in the morning which inhibited us making a few moves that we would have otherwise....
Water:
50 degrees, several feet visibility
Techniques:
pulling eels on planer boards - yep, good ol' freshwater striper fishing planer boards - set 15', 20' and 25' ft back from the board, some with a 1/4 split-shot weight. Also a few floats way out back, a free line and a downline. We were using a bit stouter tackle however, some sturdy 7' rods with these salt-water tailored 2-speed (5:1 ratio and a 3:1 ratio gears) and a few Tekota level-wind reels, but were only using 30 lb mono and 30 lb fluoro leader and 6/0 Gamakatsu Octopus J-hooks
All my gear was at the lake, so I had to make a 2.5 hr drive from NC to SML 1st (which is westerly, so technically I was somewhat correct in my post over in the FYAOSBO thread

) before making the turn east.....
After a LONG drive, I arrived at the Bay around 12:30 AM, with a 6:50am wake-up call to head out.
We were in the truck and putting in at the Kiptopeke State Park just a little after 8 am. As Dewayne was pulling the truck out of the water one of his buddies that called and said they were into fish, so opened it up and made a quick run to about 3-4 miles out into the bay.
Quickly idling out from the ramps, just about to pass the concrete ships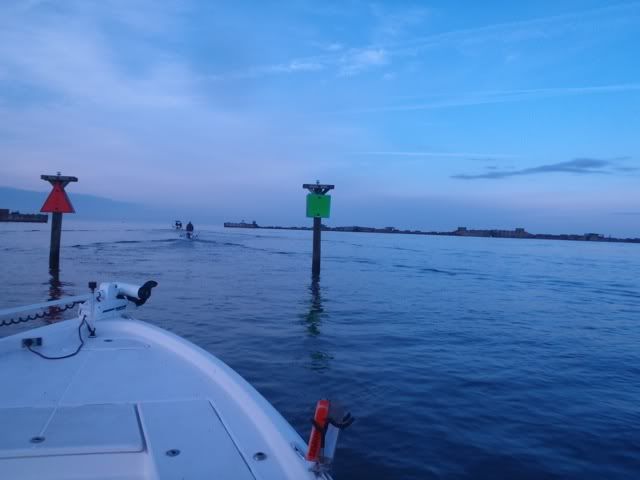 We got out and setup for our 1st drift. Dewayne has a 24' BlueWave bay boat and having the trolling motor allowed us to fish a planer board spread and control the drift a little better where most of the deep-V boats are at mercy of the current and have to just fish floats off one side of the boat. With the perfect conditions we had a lot of company out there, but was not really a problem except for a couple of times when some guys were trolling a little too close to our boards....
I don't think we had our lines out more than 10 or 15 minutes when we had our 1st fish on..... and it turned out to be the largest of the day. It was a blast letting these things scream out some drag and have to fight them back to the boat - even if it was with a little heavier tackle. I can't imagine if we'd had Abu 6500s or the like, I expect I'd be totally beat today.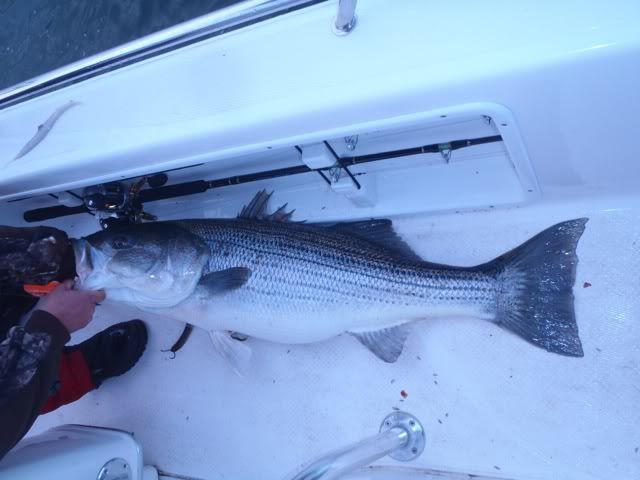 45 lbs - I'm now entered in the FYAOSBO 30+ class as well - but I'll admit that this one may not win it - these were THICK fish....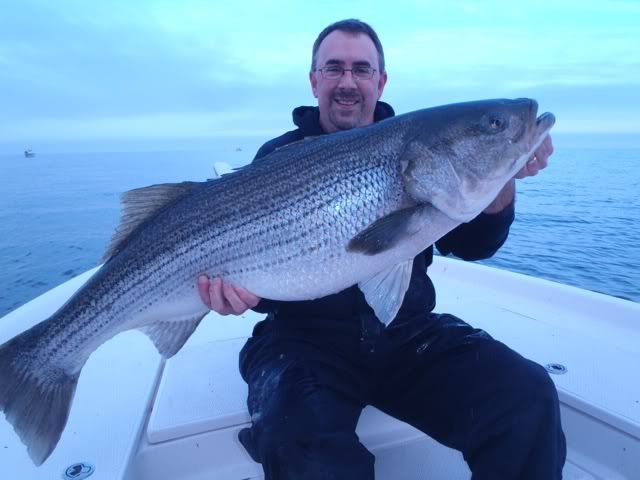 We fished the tail of the incoming tide and picked up several fish in fairly short order. Had 3 in pretty quick succession - I was about ready to take a break from fighting those fish to the boat - I need to work out....
When the tide went slack, so did the bite - although we probably drifted too far north off the bait (and the fish), but with the fog it was a slow move back down.
Eels were the ticket for big fish
They apparently rEELy like them....
As the tide changed we made an early afternoon move to another spot for several drifts and we picked up more fish there. Fairly early in the morning we found that the fish had moved from hanging over shallow water (20-25') where they were earlier in the week, to holding over a channel that was more like 50'-70', We also had to fine tune our presentation a bit in terms of the weight and length behind the boards to get in the right range, but in the morning and later in the day we had a pretty consistent bite going on, just a little slow mid-day.
We brought 10 fish to the boat, with most being 40"-42" and in the mid-30s' to low 40's in weight, although we did catch a couple in the 20s' (and I can't believe I did not think to weigh and measure those - the one I did I did not photo.... would have been able to enter the 15-30 class....

). I think we lost another 5 or so from missed hook-ups or coming unbuttoned - including this one that screamed off some nice drag....

We never did find the 50 lbers that day, but I'm certainly not complaining - it was a great day with close to 350 lbs of fish brought to the boat (and released) and I learned a lot on how its done and now can start to planning to drag my own rig out there next year....

Based on the way things where shaping up, if the weather holds and the winds/seas stay down, next week may be THE week in the Bay......